Venue
Overall
★FLEAT VII takes place in Building 11, Waseda University. Building 11 is located in the heart of Waseda campus, which is also located in the heart of Tokyo. Around the venue, there are two international airport: Narita International Airport (NRT) and Tokyo International Airport (Haneda; HND). They are served by a variety of major airlines that make it easily accessible from most major cities.
Visiting address: 1-6-1 Nishiwaseda, Shinjuku-ku, Tokyo, 169-0051, JAPAN
Traffic access
Waseda Campus Site Map
Getting from the airport to Waseda University (Waseda Station)
After arriving at NRT, the most convenient way to get to your hotel or the venue is to get on a train. Buses are also available from the airports to Tokyo or Shinjuku districts.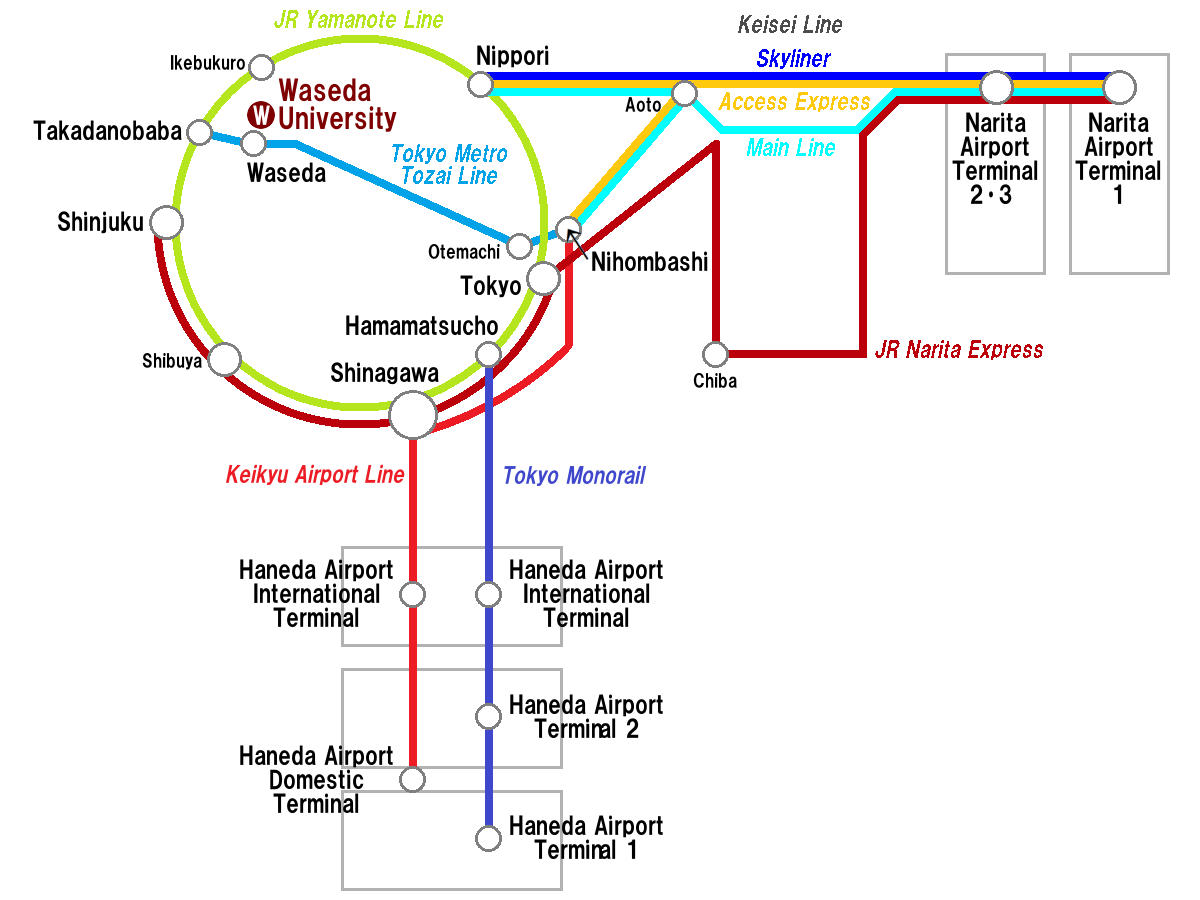 From NRT to Waseda Station (Tokyo Metro Tozai Line)
1: More than 89 minutes | 1,580 – 2,810 yen | Easy
NRT -> (Keisei Skyliner bound for Keisei Ueno Station) ->
Nippori Station -> (JR Yamanote Line bound for Shinjuku Station) ->
Takadanobaba Station -> (Tokyo Metro Tozai Line bound for Nishi-Funabashi Station) ->
Waseda Station
2: More than 98 minutes | 3,320 yen | Convenient for Sinjuku users
NRT -> (JR Narita Express bound for Sinjuku Station) ->
Shinjuku Station -> (JR Yamanote Line bound for Ikebukuro Station) ->
Takadanobaba Station -> (Tokyo Metro Tozai Line bound for Nishi-Funabashi) ->
Waseda Station
3: More than 76 minutes | 1,480 yen | Cheap but difficult
NRT -> (Keisei Sky Access Line bound for HND) ->
Nihonbashi Station -> (Tokyo Metro Tozai Line bound for Nakano Station) ->
Waseda Station
From HND to Waseda Station (Tokyo Metro Tozai Line)
1: More than 53 minutes | 920 yen | Easy
HND -> (Tokyo Monorail bound for Hamamatsucho Station) ->
Hamamatuscho Station -> (JR Yamanote Line bound for Shinjuku Station) ->
Takadanobaba Station -> (Metro Tozai Line bound for Nishi-Funabashi Station) ->
Waseda Station
2: More than 42 minutes | 760 yen | Cheap but difficult
HND -> (Keikyu-kuko Line bound for Imba Nihon-idai Station) ->
Nihonbashi Station -> (Tokyo Metro Tozai Line bound for Nakano Station) ->
Waseda Station
3: More than 49 minutes | 1,560 yen | Convenient for Shinjuku users
HND –> (Limousine Bus) ->
Shinjuku Station -> (JR Yamanote Line bound for Ueno Station) ->
Takadanobaba Station -> (Tokyo Metro Tozai Line bound for Nishi-Funabashi Station) ->
Waseda Station